Hey Friends,

Super huge thanks to everyone who came out to see EL-P on Monday!! We had over 400 people there and the show was solid!! He performed lots of songs from the new CD, as well as "Stepfather Factory" and others from his classic album "Fantastic Damage." As El himself said "From now on, Miami and Def Jux are like THIS!!"

Now, tonight!! Sweat Records, Churchill's + Filter Magazine and super proud to present...

THE PRESETS (Modular/Australia) live!!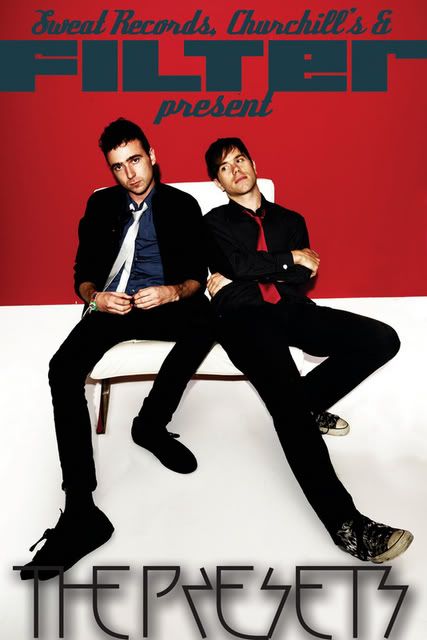 with special opening acts
CRYSTAL CASTLES!!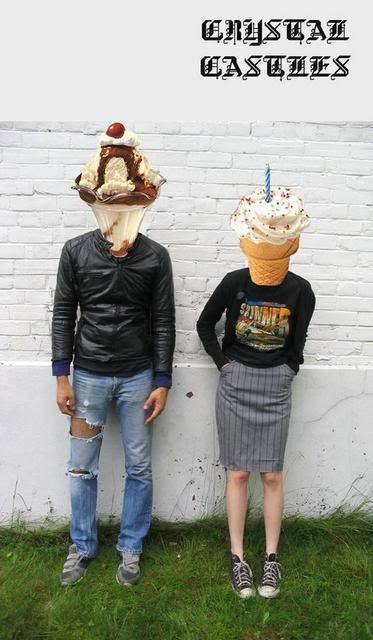 and the return of Miami's own
FINESSE & RUNWAY (Schematic)!!




Come for some serious dance-rock-electro-rave-punk goodness!! Recommended if you like The Faint, Depeche Mode, She Wants Revenge, Ladytron, Klaxons, Interpol, etc. All 3 acts bring the party, this is going to be a seriously fun night!! We've also got DJ Charles Parker (Circa Saturdays/Phoenix/Flaunt) on hand spinning between sets, Sweat will be open and humming, and it's an 18+ show as opposed to most of WMC which is 21+. Cover is only $10 at the door!!

If you're still not convinced, listen to some tracks here, they speak for themselves:
myspace.com/thepresets
myspace.com/crystalcastles

We hope to see you there!!

Cheers,
Lolo + the Sweat crew

P.S. Circa Saturdays is ON this Saturday - no cover as usual!!


__
CURRENT TICKET PRESALES:

-THE PRESETS @ Churchill's - March 22nd - $10 (also online via ticketweb.com)
-OF MONTREAL @ Studio A - March 30th - $15
-TED LEO & THE PHARMACISTS @ Studio A - April 2nd - $12
-VNV NATION @ Studio A - April 5th - $20
-CAPTURED! BY ROBOTS @ Churchill's - April 26th - $8
-ANAL CUNT @ Churchill's - April 28th - $10


__
UPCOMING EVENT GOODNESS LIKE WHAAAT:

(If your event is not in here send one email to lolo@sweatrecordsmiami.com with all the info.)

THURSDAY, MARCH 22nd @ CHURCHILL'S: Sweat Records presents THE PRESETS live!! With special guests CRYSTAL CASTLES and Finesse & Runway (Schematic). Plus, DJ Charles Parker spinning between sets. 18+, $10. DON'T MISS THIS!! 5501 NE 2nd Ave. www.myspace.com/sweatrecords

THURSDAY, MARCH 22nd @ STUDIO A: Get Physical Miami with Booka Shade (live), M.A.N.D.Y., Claude von Stroke, Jesse Rose, Heidi, Dixon and Rodrigo Lozano. Presented by Future Miami. 10pm, 60 NE 11th St. www.studioamiami.com

THURSDAY, MARCH 22nd @ CIRCA28: Cornbread Productions, Cut, and XLR8R Magazine present Spider-Pussy WMC 2007!! Featuring a live performance by DATAROCK plus DJ sets by CHROMEO and the whole roster of SP DJs!! 2826 N. Miami Ave. www.myspace.com/spiderpussy

FRIDAY, MARCH 23rd @ THE RALEIGH: Stones Throw Records presents HELLA INTERNATIONAL!! At this FREE party, check out DJs: Madlib, Peanut Butter Wolf, J.Rocc, A-Trak, Busy P & DJ Mehdi, Benji B, Karriem Riggins, Egon, and more. No RSVP necessary. Outside pool/beach area, 1pm to 10pm, 1775 Collins Ave. www.stonesthrow.com

FRIDAY, MARCH 23rd @ CHURCHILL'S: Nastie (Switch) and Ray Milian (Off The Radar) present COUP D'ETAT X!! Featuring live performances by Dance Jenny, Dino Felipe, Alucard, Outereach, The Mutiny, Le Fantome, Ferro, late night curly and The Curious Hair, plus DJs Par, Ray Milian, Danny Ashe, Hottpants and DS363!! Sweat will be open and it will be good times for sure!! $10, 5501 NE 2nd Ave.

FRIDAY, MARCH 23rd @ PS14: Inside - MOCHIPET, Richard Devine, Edit, Otto Von Schirach, Doormouse, Egg Foo Young, Machine Drum, Finesse + Runway, OOO, Yarlen and Skymall!! Outside: PG-13 w/ Waked and Nived, Alf 1, Take, Carlos Nino + Miguel Atwood-Ferguson, Dr. Who Dat + Shape of Broad Minds, Scienz of Life and DJs Matt Cash, Stravinsky, Tin Cup and Lazy Brow. $10, 28 NE 14th St.

FRIDAY, MARCH 23rd @ STUDIO A: FIXED Miami featuring JUSTICE, Digitalism (live), Boys Noize, Para One, Sebastian, DJ Mehdi, Busy P, JDH and Dave P. 21+, $20, 9pm to 5am. 60 NE 11th St. www.studioamiami.com

SATURDAY, MARCH 24th @ UPPER EAST SIDE GARDEN + MINI GOLF: Check out a live performance by THE LOCONUTS, the new side-project of Avenue D!! Plus, Miss Debbie D and Nektar will also be DJing. 5-9pm, 7244 Biscayne Blvd. Miami. myspace.com/theloconuts

SATURDAY, MARCH 24th @ CIRCA28: This week Circa Saturdays provides you with an indie rock oasis in the midst of WMC, sooo we're proud to present the CD release party for THE FRATELLIS!! This Scottish band are blowing up so come check out their awesome new album "Costello Music" - we'll have giveaways and more courtesy of Interscope. Listening party starts at 10pm, followed by resident DJs Ray Milian, Parker, Johnnylove and Jay throwing down!! Brought to you by Lauren Reskin of Sweat Records and friends. No cover, 21+, doors at 10pm. 2826 N Miami Ave. www.myspace.com/circasaturdays

SATURDAY, MARCH 24th @ STUDIO A: It's a DOWNTOWN RIOT! Check out MSTRKRFT, Tommie Sunshine, Princess Superstar, Chromeo (DJ set), Lazaro Casanova, Conway and more TBA presented by Future Miami. 10pm, $20. 60 NE 11th St. www.studioamiami.com

SATURAY, MARCH 24th @ CARNIVAL CENTER: The Rhythm Foundation presents a live performance by ANOUSHKA SHANKAR!! Tickets $15-$55. 8pm, 1300 Biscayne Blvd. Miami. www.therhythmfoundation.com

SATURDAY, MARCH 24th @ POST: PopLife presents a live performance by the JUNIOR BOYS (Domino) with LO-FI-FNK. 1777 SW 3rd Ave. www.epoplife.com

SUNDAY, MARCH 25th @ STUDIO A: Contagious Musiq and Lyricist Lounge Inc. present PHAROAHE MONCH, Buckshot (Black Moon, Duck Down), ¡Mayday!, Wreckonize and ArtOfficial, plus DJs Craze, Nu-Mark and A-Trak!! Doors at 10pm, 18+, $20 in advance or $25 at the door. 60 NE 11th St. www.wanttickets.com/www.studioamiami.com

FRIDAY, MARCH 30th @ STUDIO A: PopLife presents a live performance by OF MONTREAL (Polyvinyl) with special guests Lonely, Dear (Sub Pop) and PIgeon John. 60 NE 11th St. www.studioamiami.com

MONDAY, APRIL 2nd @ STUDIO A: TED LEO & THE PHARMACISTS live!! With Love of Diagrams. 8pm, $12. 60 NE 11th St. www.studioamiami.com

THURSDAY, APRIL 5th @ STUDIO A: VNV NATION live at Studio A. Doors at 7pm, tickets $20. 60 NE 11th St. www.studioamiami.com

THURSDAY, APRIL 5th @ JAZID: Check out GRAND GROOVE, the first 3 Thursdays of the month at Jazid. Funk, hip-hop, soul and rare grooves provided by DJs Mr. Brown, Sire Esq., Lumin, Kems and guests. No cover + weekly drink specials! 10pm to 3am, 1342 Washington Ave. Miami Beach.

SATURDAY, APRIL 7th @ CHURCHILL'S: New Art School presents The Tuff Luvs (Jackson, MS), The Crumbs, Stay Hitt and The Dead Hookers' Bridge Club - live!! Doors at 9pm, $10 cover includes free record or CD. 5501 NE 2nd Ave. www.newartschool.net

TUESDAY, APRIL 10th @ CULTURE ROOM: TV ON THE RADIO live!! With Blood Brothers, The Noisettes and Celebration. Doors at 8pm, $16 tickets via ticketmaster or $18 at the door. On sale soon... 3045 N Federal Hwy. www.cultureroom.net

THURSDAY, APRIL 12th @ RAG TRADE: Rag Trade continue their instore acoustic series with a special live performance by RAFFA + RAINER!! 8.30pm, 4600 NE 2nd Ave. #6, parking and entry in the rear. myspace.com/ragtradeco

FRIDAY, APRIL 13th @ POMPANO BEACH AMPITHEATER: Fantasma presents THE FLAMING LIPS live!! Tickets are $36 through Ticketmaster. 8pm, 1806 NE 6th St. Pompano Beach. www.fantasma.com

SATURDAY, APRIL 14th @ STUDIO A: IMMORTAL TECHNIQUE live!! Also performing - DJ G.I. Joe, Diabolic, Omniscient and Phamous, hosted by Revolution Hip-Hop. Doors at 8pm, $14 in advance, $17 day of show. 60 NE 11th St. Miami. www.studioamiami.com

SATURDAY, APRIL 14th @ POST: PopLife presents a live performance by RATATAT (XL)!! 1777 SW 3rd Ave. www.epoplife.com

THURSDAY, APRIL 19th @ HARD ROCK LIVE ARENA: Fantasma presents THE KILLERS live. 8pm, $30-$40. 1 Seminole Way, Hollywood. www.fantasma.com

SATURDAY, APRIL 21st @ CIRCA28: Sweat Records and Circa Saturdays present a lie performance by VELVETEEN PINK!! If you missed their awesome set at the Plug Miami party, this is your chance to catch one of the best up-and-coming bands out there. Recommended if you like Hall & Oates, Chromeo, and funky synthesizer soul!! Plus resident DJs Parker, Ray Milian, Johnnylove and Lolo keep you dancing all night long (all night). Doors at 10pm, no cover. 2826 N Miami Ave. www.myspace.com/circasaturdays

SATURDAY, APRIL 21st @ RESPECTABLE STREET (WPB): THE LOCUST live with guests Cattle Decapitation and Daughters!! 518 Clematic Street, Downtown West Palm Beach. www.respectablestreet.com

SUNDAY, APRIL 22nd @ REVOLUTION: CLAP YOUR HANDS SAY YEAH live!! With guests Elvis Perkins in Dearland. 200 W. Broward Blvd, Ft. Lauderdale. www.jointherevolution.net

THURSDAY, APRIL 26th @ CHURCHILL'S: New Art School proudly presents the 10th anniversary tour of CAPTURED! BY ROBOTS!! With very special guests Teddy Bear Orchestra and The Terry Schiavo Hyper-Crystal Suicide Cult, plus Shuttle Lounge in effect on the patio. Doors at 9pm, $8. 5501 NE 2nd Ave. Advance tickets at Sweat Records or at www.ticketweb.com

SATURDAY, APRIL 28th @ CHURCHILL'S: New Art School present Anal Cunt with Creeping Jimmy and more TBA. 5501 NE 2nd Ave. www.newartschool.net

FRIDAY, JUNE 1st @ BANK UNITED CENTER: [Rescheduled Date] Ohhh yeah... Check out the one and only TOOL, live!! 2555 Panther Parkway, Sunrise. www.toolband.com

SATURDAY, JUNE 9th (my birthday!!) @ CULTURE ROOM: BLACK REBEL MOTORCYCLE CLUB live with special guests THE HORRORS!!!!!!!!! Doors at 8pm, tickets $18 via Ticketmaster. On sale Saturday, March 17th. www.cultureroom.net


__
Sweat Records
(inside Churchill's Pub)
6pm to Midnight, 7 Days a Week
5501 NE 2nd Ave.
Miami, FL 33137
Ph: 305.758.5862 ext.5
Fax: 305.758.4481
sweatrecordsmiami.blogspot.com
www.sweatrecordsmiami.com